Achieving Sustainable Value from New Generation ERP Solutions in Healthcare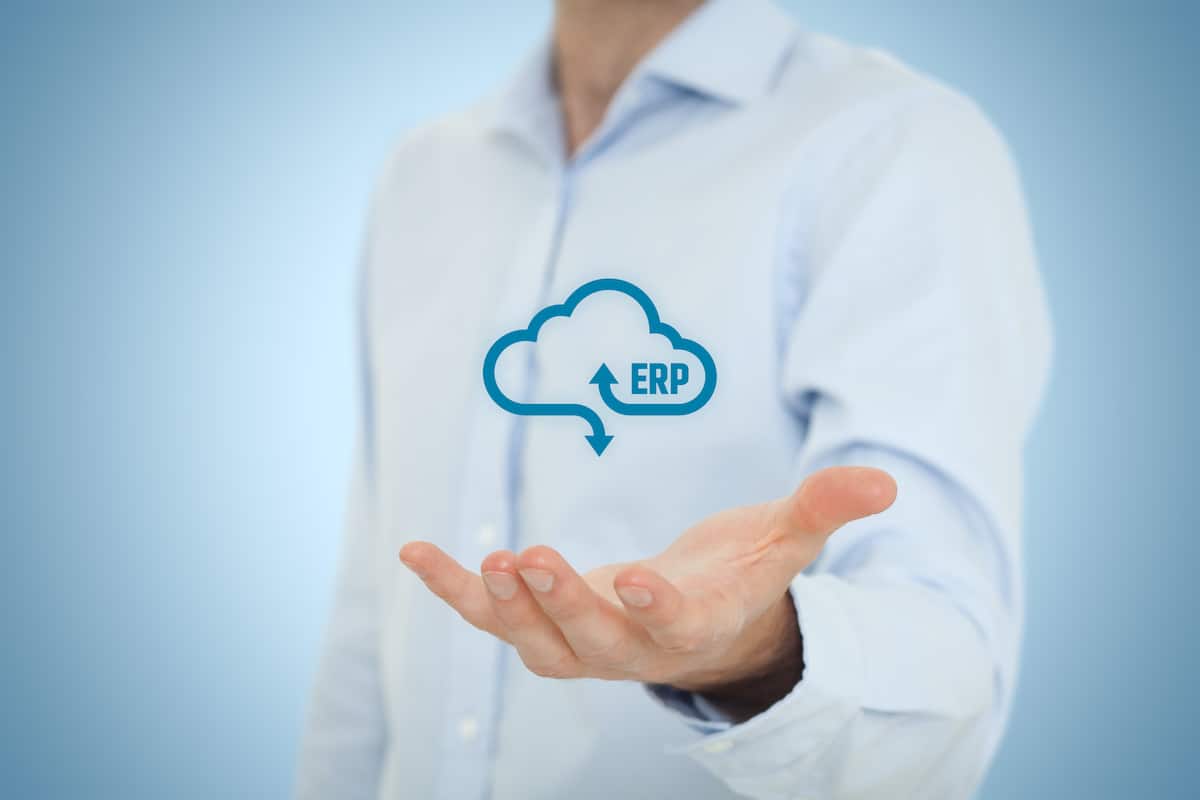 Nov 21, 2021
Achieving Sustainable Value from New Generation ERP Solutions in Healthcare
Executive Summary
Given the robust capabilities of today's new generation solutions, the value proposition for hospitals and health systems to revisit enterprise resource planning (ERP) is compelling.  The inherent advantages of these new cloud-based ERP solutions in health delivery, combined with the historical operational inefficiencies and lack of standardization at many hospitals and health systems over the years, means there are significant benefits that can be realized – on many fronts – by transitioning to a new generation ERP product.
Actually achieving – and sustaining – value from a new cloud-based ERP solution goes far beyond the technology itself though.  Success requires careful and deliberate attention to governance, program management, business transformation, and change management.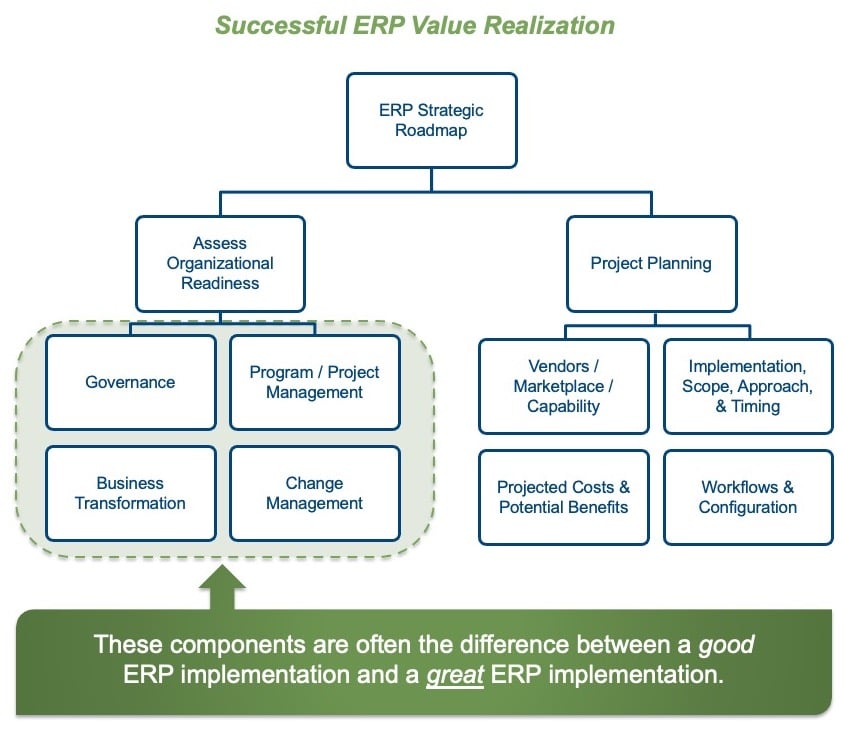 How Real Is the Value in New Generation ERP Systems in Healthcare?
ERP systems are reemerging as more capable, value-generating transformation investments for healthcare providers facing margin pressure, talent leakage, M&A disruptions, and the need for IT modernization.  The most significant factor driving demand for new generation ERP solutions in health delivery is the fact that major ERP vendors are now committed to the cloud – and specifically a SaaS ("software as a service") licensing and delivery model.
Historically in health delivery, poorly integrated applications have supported ERP functions, with disproportionate focus put on functionality instead of actual process optimization (especially for inter-departmental workflows). This creates challenges for providers to obtain economies of scale, produce consistent reporting, achieve synergy across various data sources, and be agile with decisions.  The shift to a SaaS licensing and delivery model represents a genuine game changer for ERP in healthcare though.  Simply put, today's cloud-based ERP solutions can support efficiency, standardization, employee engagement, and collaboration on a fundamentally different level across the enterprise compared their outdated on-premise legacy counterparts.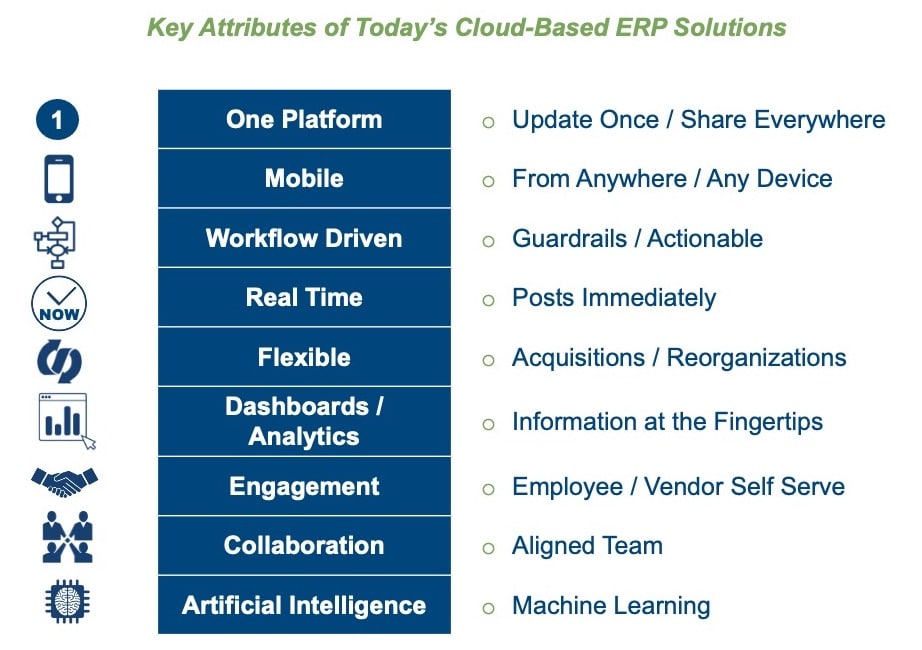 The types of benefits from transitioning to a new generation ERP solution also range widely – across Financial Management (FIN), Human Capital Management (HCM), Supply Chain Management (SCM), and Information Technology (IT).  Some benefits are direct (e.g., cost savings from efficiency gains); some are indirect (e.g., improvements due to better employee engagement and satisfaction).  Certain benefits from the cloud-based ERP solution will be straightforward to estimate in advance, while many others will be much more difficult to isolate and quantify.  Taken as a whole, the full scope of benefits that can be realized represents an extremely compelling value proposition.
The following tables identify common benefit themes for FIN, HCM, SCM, and IT – and corresponding approaches for the market to consider.
Financial Management (FIN)
Streamline activities and liberate information.
Human Capital Management (HCM)
Enable employee and manager self-service.
Supply Chain Management (SCM)
Lower costs and reduce supply and process variability.
Information Technology (IT)
Deliver secure, scalable integrated cloud solution.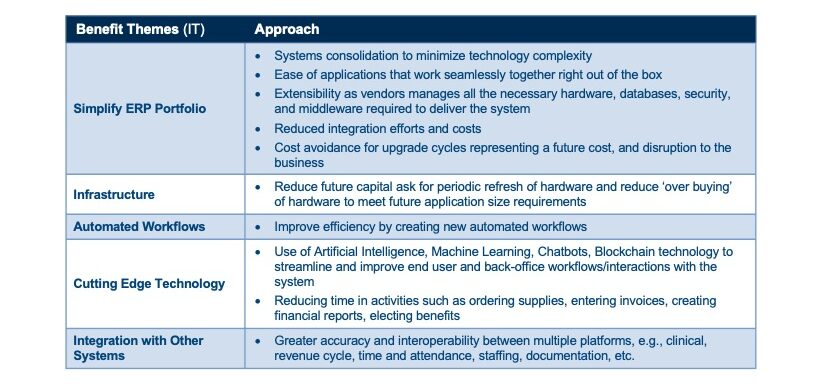 Ensuring ERP Success
Despite the wide range of benefits, transitioning to a cloud-based ERP solution is not without challenges.  This is a significant (and expensive) undertaking and realizing full value from a new generation ERP solution goes far beyond the technology itself.  Technology is obviously important to the concept of value – especially given the inherent advantages of new cloud-based based ERP solutions compared to their outdated legacy counterparts.  ERP technology alone cannot identify, achieve, or sustain value through – the right leadership, program assurance, end user engagement, and attentiveness to workflows and processes are required at every stage in the journey.
Keys to success include:
1. Empowering ERP focus groups.  "Value" is a relative term.  The merit or worth of a given improvement that results from implementing a specific change will vary from organization to organization depending on current pain points, unique strategic priorities, future plans, and a variety of other factors.  Each hospital and health system will ultimately need to define what constitutes "value" from an ERP solution for themselves.  This includes identifying areas of opportunity (e.g., value-based purchasing); defining the specific benefits that will be targeted (e.g., reduced variation); and determining how to quantify each targeted benefit (e.g., cost savings, increased revenue, reduced hours, etc.).
Establishing – and empowering – internal ERP focus groups with representation from stakeholders in FIN, HCM, SCM, and IT is essential to the process of identifying value and getting consensus on the organization's unique requirements for an ERP solution.  When the time comes to go to market or issue an RFP, these focus groups help ensure that demonstrations from ERP vendors address the specific pain points that are priorities for the hospital or health system.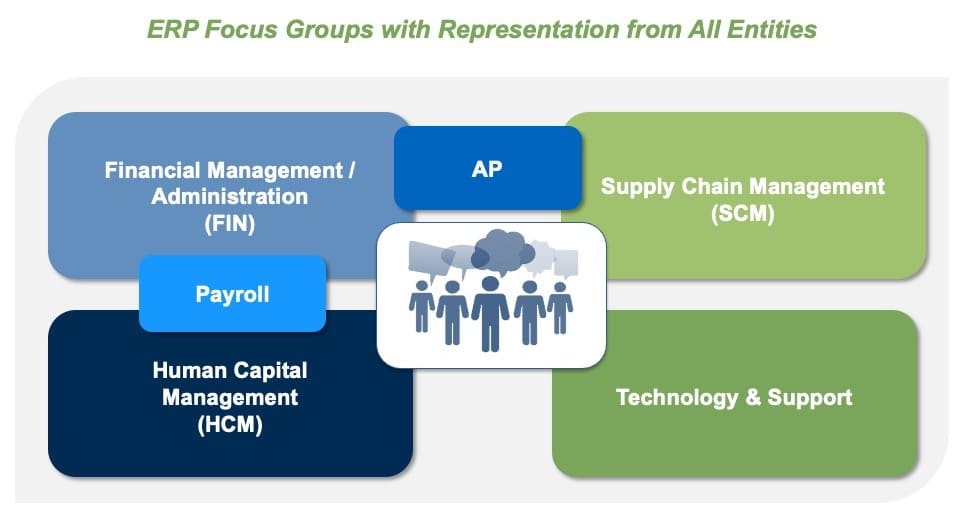 2. Making business transformation and change management a top priority.  Achieving value from a new generation ERP solution comes largely from developing – and then implementing – the right workflow and process changes, which will be supported by the new technology.  Successful transformation requires engaged operational leaders within SCM, HCM, and FIN who have a strong knowledge of the business and a deep understanding of how the targeted benefits can be realized.
However, ERP solutions are unique in that every employee in the organization interacts with the product, from the casual user who just wants to update their benefits to the super users in FIN, HCM, and SCM who are running processes in the system every day.  These different audiences need to be accounted for, with tailored levels of communication and training.  Before establishing – and then effectively rolling out – the right ERP training and communication program though, hospitals and health systems need to analyze the potential impact of the planned changes across the organization and assess end user readiness – activities that will greatly influence the overall change management approach and strategy.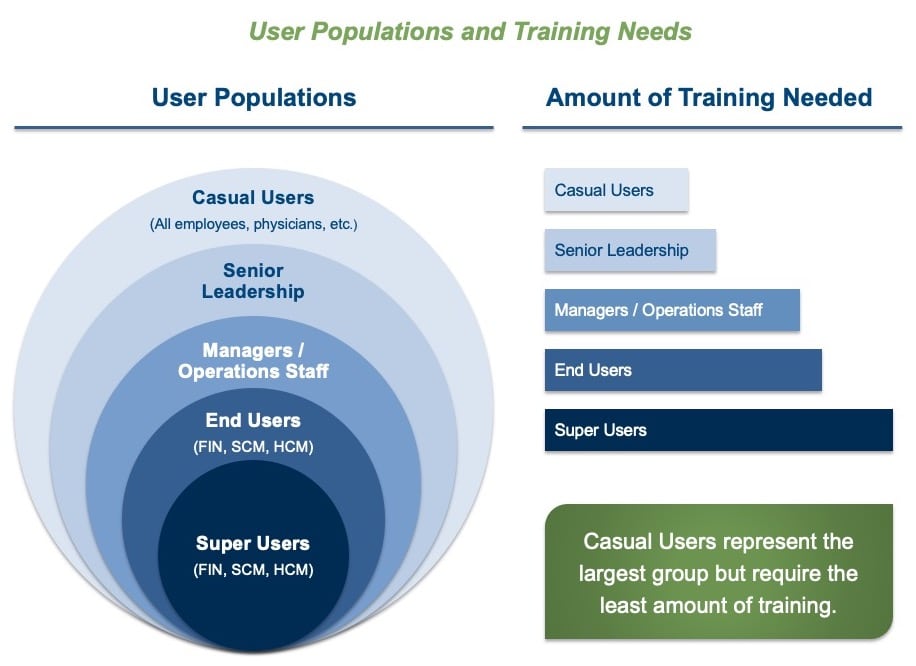 3. Leveraging data, analytics, and reporting to sustain value.  Perhaps the most difficult aspect of value is preserving and further enriching it.  Performance can quickly erode if compliance with new processes and workflows drops over time, or if end users develop undesirable habits or unanticipated issues arise.  The ability to continually access – and leverage – actionable information and insights from data is critical.  Ongoing measurement needs to be a top priority.  Whether real-time dashboards, retrospective reports, or alerts directly embedded in the new system, putting up-to-date information in the hands of decision makers is essential to effectively sustaining value.
Our Point of View
Given the inherent advantages of today's cloud-based ERP offerings and the operational inefficiencies that have historically plagued health delivery over the years, transitioning to a new generation ERP system can yield significant benefits on many fronts (i.e., within FIN, HCM, SCM, and IT).  This is a significant and resource-intensive endeavor though – and successful ERP value realization requires careful attention to governance, program management, business transformation, and change management.
The bottom line is that value is not achieved simply by transitioning to a new generation ERP solution.  Hospitals and health systems must invest time and resources to identify the specific areas of opportunity that are aligned with their organization's unique pain points and strategic goals – and then design the process and workflow changes accordingly that will be supported by the new technology.  Executive leadership and key operational stakeholders need to be invested and engaged in the effort.  Change management is paramount, with communication and training programs reflecting a wide variety of different audiences.  Achieving value is also not a singular occurrence.  After value has been realized, there is significant work required to maintain and further improve on those benefits.
For more information, talk to one of our ERP experts.