Increase Margins and Eliminate Access Barriers with Meaningful Automation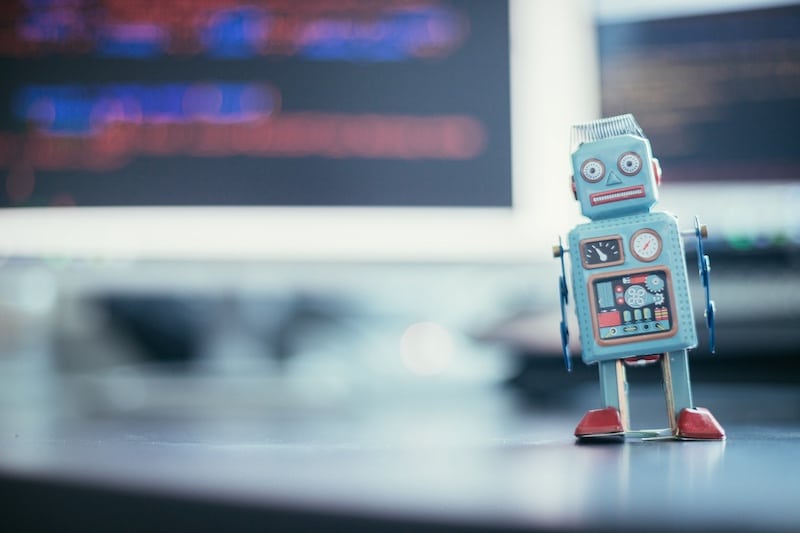 Apr 06, 2023
Increase Margins and Eliminate Access Barriers with Meaningful Automation
Today, healthcare providers are uniquely positioned to achieve a competitive market advantage by using automation to manage complex data. According to a Fortune Business Insights report, the global Robotic Process Automation (RPA) market will grow from $14 billion in 2022 to $50 billion by 2030. Automation adoption is increasing across organizations of all sizes to boost productivity, lessen the burden on staff, and increase return on investment.
Post-pandemic, the healthcare sector has experienced an outsized demand for automation to manage throughput, billing follow-up, and call center capabilities.
For health systems, the use of RPA can make or break your margin. It's no secret that healthcare systems benefit from: cost reduction, faster appointment turnaround times, greater employee satisfaction, increased quality of care, improved patient experience, reduced errors, and access to real-time data driven insights. RPA can reduce costs accumulated through wasteful steps, manual intervention, human error, and billing office backlogs. In addition, it can increase appointment turnaround by automating patient scheduling and reminders to improve resource utilization while enhancing employee satisfaction.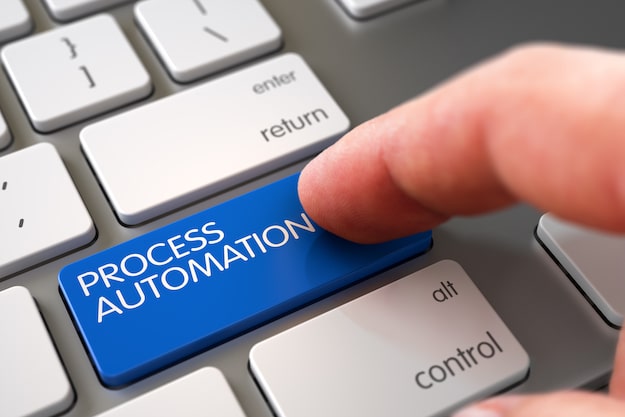 Using Attended Automation to Achieve Seamless Access
In scenarios where certain steps of a workflow are manual, Impact Advisors has the capability to build digital workers that are triggered based on the completion of human tasks. This type of workflow is called attended automation. Software robots, or "bots," can be programmed to complete automatable tasks such as searching a website, editing accounts, updating patient information, or generating reports while the human workers complete complex tasks that involve more critical thinking.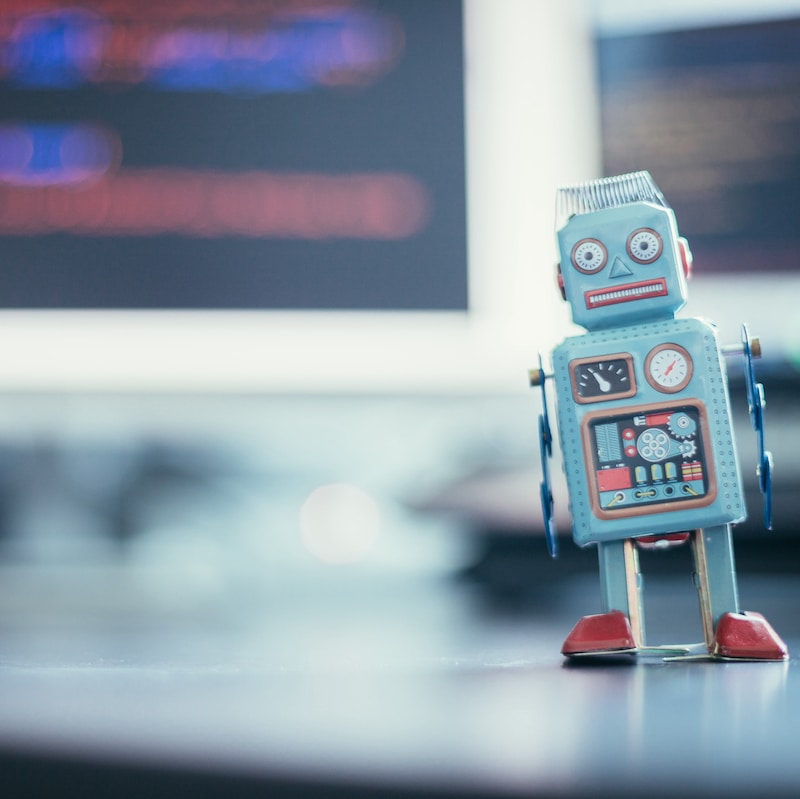 In a hospital setting, attended automation is ideal for pre-service workflows where representatives are constantly communicating with payers and patients to verify benefits and financially clear each patient. One example of this type of workflow is prior authorization initiation and follow-up. When a patient is scheduled for a service that requires authorization, a robot can be programmed to initiate the authorization request if there is no existing authorization linked to the patient visit. If the patient account is not complete with all visit and insurance information, a patient access representative may need to contact the patient or payer to verify coverage. In this scenario, the bot could be triggered to complete the authorization initialization process once the patient account is updated with all relevant coverage details. Below is a diagram of the prior authorization attended automation example.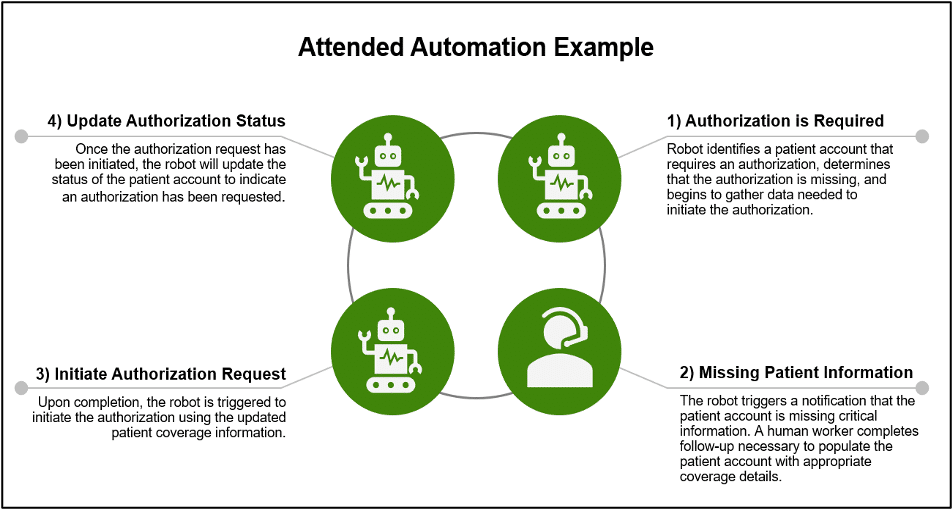 RPA Delivers Low-Cost
High Reward Solutions
Impact Advisors helps healthcare organizations discover how they can benefit from purposeful use of RPA to drive margin improvement and labor cost savings. Impact Advisors takes away the burden of guessing whether automation will drive value by demonstrating a return on investment (ROI) before your organization invests in implementation.
Use case development involves gathering data such as number of transactions, manual time required for each task, task complexity, and number of people performing the task, among other items, to calculate the cost savings that can be achieved. The FTE savings and the number of robots deployed for each use case will be dependent on process complexity and resources required to automate each existing process. An example in healthcare is claim statusing. Below is a breakdown of the estimated annual FTE savings from automating claims statusing.
Healthcare Revenue Cycle ROI and FTE Reduction Example
The Claim Status Lookup portion of a patient financial services representative's workflow typically takes 1-2 hours of the day.
Claim status lookup automation can increase staff productivity, reduce low-value touches, and free up business office representatives for higher value tasks, exception level tasks and special projects

Claim status accounts across entire payers and subsets of outstanding claim AR can drive work queue prioritization, eliminate follow-up on AR that's pending payment or accelerate accounts routed to denials or self-pay
Year over year, the ROI that RPA provides will grow with your organization. With labor costs increasing and employee retention becoming increasingly important in the healthcare sector, it's critical to invest in solutions that increase employee satisfaction by reducing non-value-adding hours. By increasing FTE savings, health systems can create capacity for their workforce to practice at the top of their license while meeting and exceeding budget expectations.
What Should I Automate?
When deciding what processes to automate, consider the resources already available to your organization and ask yourself these questions:
01
What vendors are already in place?
02
Are you using your EHR in the most optimized way to reduce costs?
03
How can RPA supplement existing automated workflows?
Verification of Benefits and Prior Authorization
Epic ROI Example
In this example, RPA is used to achieve outsized cost savings by leveraging real-time eligibility information.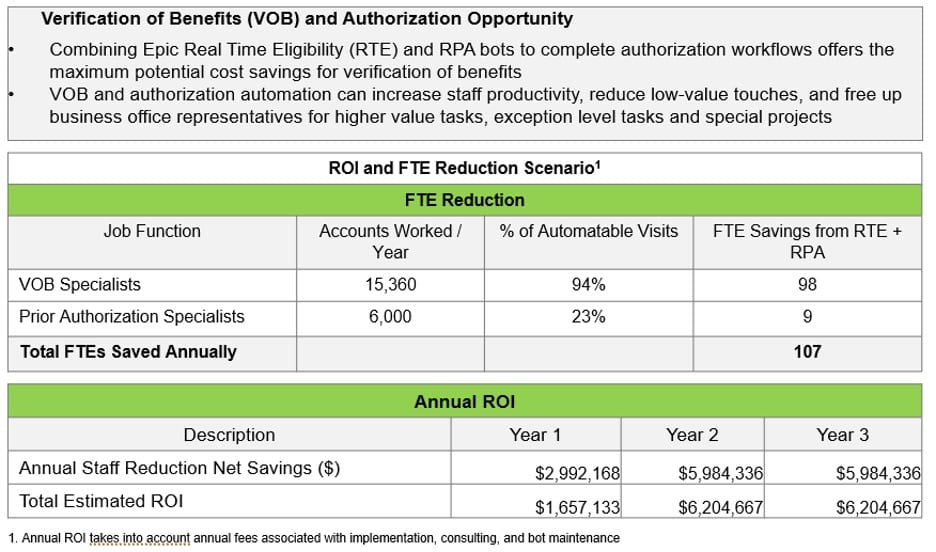 Managing Complex Data with RPA
Automation provided by RPA addresses the inefficiencies that have plagued many in the industry because of data silos. In many cases, the data sources used by healthcare organizations are not connected; they're not integrated. What ends up happening is users spend lots of extra hours pulling the data for each database and trying to mix and match the data to come up with actionable insights.
RPA leverages the data collection processes using software to ensure that all the manual efforts are completely automated. This brings efficiencies and effectiveness to the process of data analytics that many in healthcare have not seen. Specifically, RPA can be used to create and maintain well-structured data across enterprise systems and generate data lakes. These data resources are fed by applications for patient data, payroll data, marketing data, etc. RPA brings all this data together. Tasks such as data entry, data migration between disparate enterprise applications and data monitoring can be fully automated.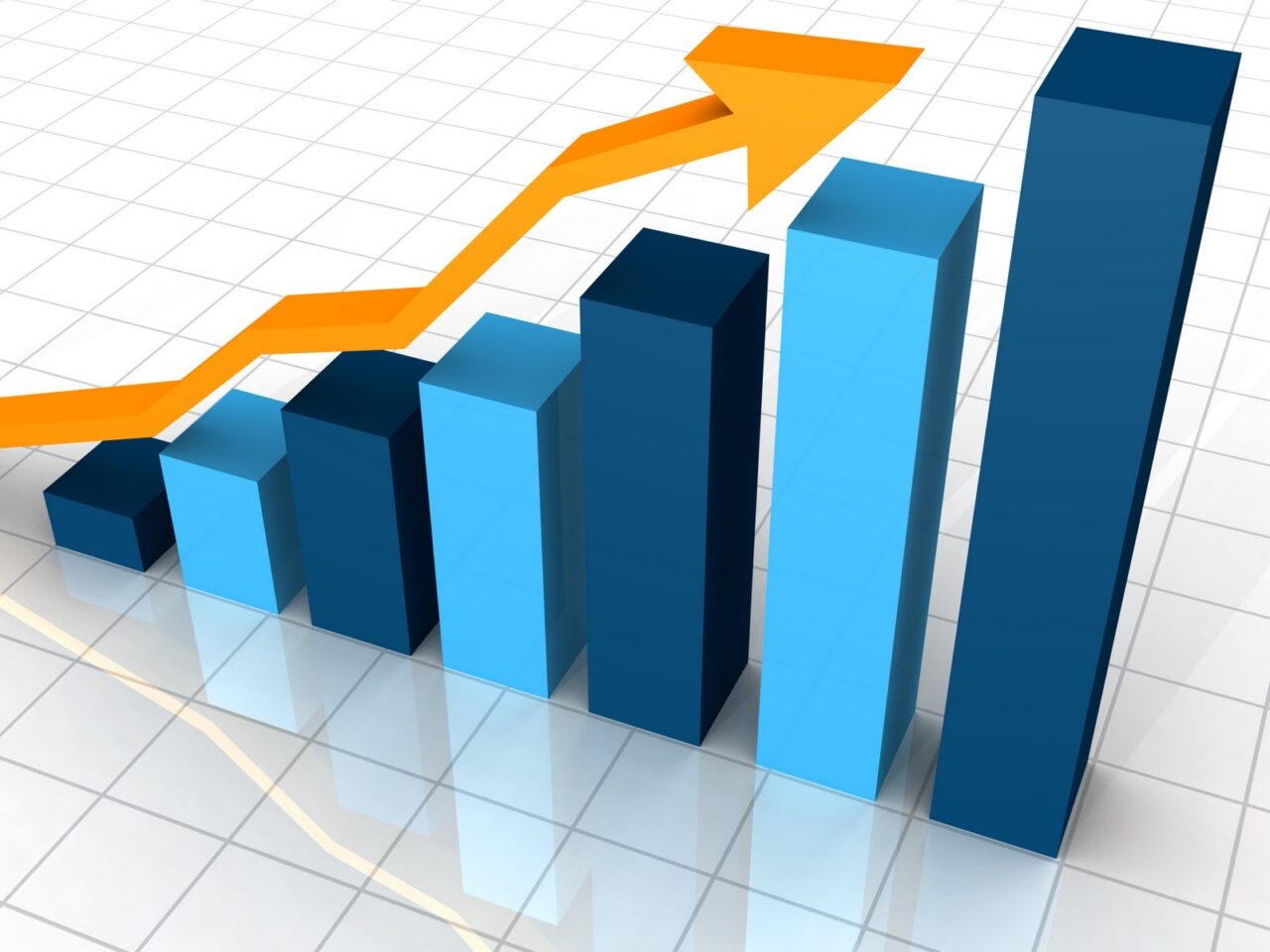 RPA Optimizes Value Based Care Models and Drives Growth
The intent of RPA is not to replace people but to enable them to work more efficiently and effectively. It is not productive to pay someone $100,000 per year in salary to have them spend hours and hours collecting data from different sources. Human resources should be focused on analyzing the data to gain new, actionable insights. If the goal is to provide quality care with no barriers to access and create a seamless patient journey, then workforce responsibilities need to be focused on those goals.
Reducing errors and accelerating manual processes contribute to cost savings and improved patient experience. If healthcare providers enhance the patient experience, they can effectively influence how the patient behaves, which can directly impact costs. For example, organizations can use RPA to automatically send patients reminders about appointments or to take medications via voice recordings or text messages. In this way, they don't need to have care managers take the time to call patients for these types of reminders.
Helping patients comply with medications, and be on time for their appointments, also reduces healthcare costs—for the organization and the patient. For instance, a patient can avoid a costly trip to the emergency room by being reminded to take an important medication. Consequently, it reduces unnecessary healthcare utilization and allows us to allocate resources to the highest risk populations. With recent payor mix changes and many organizations moving toward value-based reimbursement models, population health data management is increasingly important to ensure patient needs are met.
Create Your Own Center of Excellence
One of the first actions organizations should take when developing an automation strategy is to determine where human intervention is still needed and where it can be avoided. Impact Advisors assists our partners through the creation of a formal RPA governance process that will serve as the foundation for a formalized Automation Center of Excellence (CoE). Our dedicated CoE team will advise and oversee the RPA software vendor selection and setup, including but not limited to:
Use Case Implementation Timeline
Automation Vendor Selection
Staffing (IT, Finance and Revenue Cycle) Strategy
Design & Build Strategy
Testing and Training Strategy
Reporting Oversight Implementation
Go-Live Support and Resource Requirements
Ongoing Maintenance Strategy and Resource Requirements